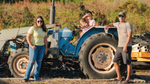 Parents.
Multi-passionate Entrepreneurs. 
Beekeepers.
'Ohana first — the Tolentino's are a husband and wife team who have leveraged a family passion into the blossoming legacy of Tolentino Honey Co. They live by an entrepreneurial spirit inspired by their children, the land, and providing wholesome nutrition for their community. Having taken part in curating countless special events from the West Coast to Hawai'i through the event styling of Roam Rentals Hawaii, the Tolentino 'Ohana have carved a path forward while still providing pure aloha for not only our hearts, but now our tastebuds. Both beekeeping and raising a young family in Hawai'i is not for the faint of heart — but Marina and Ryan Tolentino have shown that all is possible when you continue to follow your passions.
Meet:
Marina and Ryan Tolentino
Having curated special events and weddings across the State of Hawai'i, what led you into the honey industry?
Ryan's parents started beekeeping in 2008 when they noticed a lack of pollinators on the farm. Fast forward to 2016 when we moved home, we quickly realized beekeeping was more than their hobby, it was an obsession. Everyone that sampled our honey loved it and always said it was the best they've ever had! We knew this was something truly unique and a passion we could pass on to our kids as they grow up on the farm. 
Balancing life as a mother, farmer, and entrepreneur, what takeaways have you learned from in this COVID-19 era? 
Family first always. The sky could be falling, but so long as my family is loved and safe, that's all that matters. If you want business advice, just keep moving forward and network your ass off. You never know what opportunities will come your way in the next email or call.  I know "pivot" was the word of 2020, but in all honesty, it's the truth. It was a forced season to get gritty, take action — or watch everything we'd built go down the drain. Adding "realtor" to my titles has only leveraged my connections allowing me to enter 2021 with my head held up high and my family all the better, knowing we have an extra security of income coming in.
Living on a working honey farm on the West Side of O'ahu, what are your hopes for the future of Tolentino Honey Co and local apiculture? 
I sincerely believe there is nowhere else as special as the Wai'anae Coast. I hope Tolentino Honey Co. leaves a legacy for inspiring entrepreneurs and farmers to keep at it. Farming and beekeeping is not for the faint of heart. You must have passion for the land and the people you help provide wholesome nutrition for. We all need each other in order to thrive, without the honeybees you can't have the farms and vice versa — they're all connected. It's all one big circle of life that has to keep growing and I hope to fuel the next generation to dig in and get dirty. 
What's the last book you read? 
"The One Thing"
by Gary Keller. Fantastic read about smashing goals and doing the one thing each day that drives your business forward. 
Favorite takeout or restaurants? 
Wai'anae favorites: Countryside Cafe, Beach House 604, Kalo Bombs, Tamura's Deli, Faith's Place, Mountain Magic Shave Ice, and da local manapua man.
Wicked HI Cafe, Fete, MW Restaurant, Matsuzaka-Tei, Taniokas, Fresh Catch —  we could name so many more but those top the list! 
What does "be aloha" mean to you? 
Doing all things with love. Giving more than taking. 
The Be Aloha Spotlight Series shares the stories of our Hawai'i community through the lens of its people. Get to know the artisans, community leaders, small business owners, and advocates of Hawai'i as we uncover the aloha they wish to see in the world. All imagery credited to Kenna Reed.