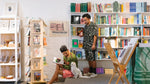 Visionary.
Scholar.
Altruistic.
Born and raised in Honolulu, Josh has been championing contemporary artists of Hawaiʻi locally and globally after Hawaiʻi called him home in 2014. Josh brings an unmatched level of unaffected, probing intellect to all the exhibitions he has curated for nearly a decade. With his artist-first focus as a curator, project manager and writer, Josh continuously adds to scholarly dialogue and has an unwavering commitment to elevating the voices of Hawaii's most groundbreaking artists.
Meet:
Josh Tengan
Born & Raised: Pauoa Valley, Oʻahu
Currently Reside: Mākiki
Occupation/Titles: Art & Operations, Arts & Letters
Captured at Arts and Letters Nuʻuanu, Shaka Tea caught up with Josh Tengan and Reise Kochi. In this two-part Be Aloha feature, we sit down with both gentlemen to discuss their individual work and views as part of Hawai'i's tapestry.

 
As a contemporary curator and producer, what are some of the themes that define your work?
I am always interested in work that is both informed by/speaks to or is in dialogue with Hawaiʻi. I love Work that 1) feels insider to people who live here, 2) requires local knowledge. I'm interested in artwork/exhibitions that are critical, incisive, and push necessary conversations forward. I'm also drawn to work that is culturally grounded and isn't bound to traditional-contemporary perceptions of art. Hawaiian art is living, breathing, and evolving.
You have studied, lived and worked all over the world; what inspired you to move home and grow your career from Hawaiʻi?
Hawaiʻi called me home in 2014. I came home with the intent of moving away again but there were so many things that kept me here and have sustained my being here. I was fortunate to begin working with Maile Meyer and Nā Mea Hawaiʻi/Native Books. I am grateful for the last six years, which has led me to help start-up its newest venture at the Arts & Letters Building.
Who are the artists that you are especially excited about championing and working within 2021?
I'm excited to see new media work championed in Hawaiʻi. For a long time Hawaiʻi was deficient of these kinds of tech-based practices. But I'm seeing more and more examples of these kinds of ways of working here in Hawaiʻi outside of those kinds of institutional settings.
-
What's the last book you read?
Last book cover-to-cover:
Nānā I Ke Kumu, Helu
ʻ
Ekolu
, with Reise and a couple other friends who were reading it at the same time. I'm currently reading through an old copy of
A Pacific Islands Collection, Seaweeds and Constructions, Number Seven
, published by Elepaio Press in 1984.
Favorite takeout or restaurants?
What does "be aloha" mean to you?
Aloha is living, breathing, and active. It's aspirational. "Be Aloha" means to embody aloha by choosing it even in situations when it's not easy.
- 
The Be Aloha Spotlight Series shares the stories of our Hawai'i community through the lens of its people. Get to know the artisans, community leaders, small business owners, and advocates of Hawai'i as we uncover the aloha they wish to see in the world. All imagery credited to Kenna Reed.