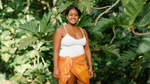 Meet
Dilyuns Michael
A passionate local food, ag and community advocate from Oʻahu. Learn more about her work with Kākoʻo at Roots KKV; her ancestral connection to her favorite canoe plant; and how she feels synergy between surfing, the ocean and practicing aloha. 
Born & raised: Kalihi, O'ahu
Currently reside: Kuakini, O'ahu
Your work intersects food and community at the Roots Cafe + Food Hub Kakoʻo. What's your earliest food memory?
I can't really think of one single memory. But when I think about food and being a kid, a lot of my memories are of my family going to the beach and my dad and uncles going diving for uni. It would be an all day thing. We'd eat some fresh out of the water on the beach and bring some home to share. I'm drooling thinking about it now… mmm!
You've worked in the local food ecosystem for years and prior to joining Roots Cafe + 
Food Hub Kakoʻo, worked with one of Hawaiʻi's most celebrated chefs, including Ed Kenney. Both Roots and Ed Kenney have a strong focus on locally grown foods and especially highlighting canoe plants. What's your favorite canoe plant to cook with

? 
I would say ʻulu because it's my favorite to eat. I also love how versatile it is. One of my favorite ways to eat it is as chips. I also have a ancestral connection to breadfruit. Both my grandmothers come from a place in Palau where there's a story about fish coming out of a breadfruit tree. My neck/chest tattoo is actually inspired by that story.
With our islands importing 85% of our food, how do you feel locals can best support food security and sustainability?
Support local and kanaka farmers! There are so many options out there for local veggies, fruit, and even meat. Farmer's markets are a great option or signing up for a CSA. 
I also believe it is so important for us to learn and know how to grow and source our own food. And you don't have to have a huge amount of space. Small box planters on your lanai are a great option or even getting a hui of your friends together to start a backyard community garden. 
As a Palauan living in Hawai'i, how can our local community be better allies for our Micronesian community?
If you are so lucky to have Micronesian friends in your circle, learn from them! Ask them about their experiences living as a Micronesian in Hawaiʻi. Ask them about their island home. Hear their stories.
What's the last book you read?
The last book I read was "Honolulu" by Alan Brennert. It's set in 1914 around where I grew up in town and I trip out thinking about what these places, that are so familiar to me, were like back then. 
Favorite takeout or restaurants?
This might be a little bias, but Mud Hen Water is definitely one of my favorite restaurants. The atmosphere, the food, the drinks. It's a perfect spot for any occasion. Also, Izakaya Torae Torae. The white dragon roll always makes me do a little happy dance.
What does "be aloha" mean to you?
When I think of aloha, I think of surfing and the ocean. I think of the way catching a wave makes me smile from ear to ear. I think of the way I feel embraced when I'm submerged in the water. I think of laughing alongside my friends in the lineup. The ocean is a friend, it is welcoming, it is a sanctuary, all the while being fierce, wild and violent. It is to be healthily feared and respected. 
For me, to "be aloha" is to embody all of that. To be like the ocean. 
The Be Aloha Spotlight Series shares the stories of our Hawai'i community through the lens of its people. Get to know the artisans, community leaders, small business owners, and advocates of Hawai'i as we uncover the aloha they wish to see in the world. All imagery credited to

Kenna Reed

.