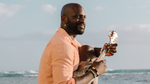 Music Entertainer.
Song Writer.
Educator.
Kamakakēhau embodies aloha. Not just as an accomplished entertainer and song writer in Hawai'i, but as someone who lives by his kuleana (responsibility) of perpetuating the cultures of both his ancestral roots and the ʻāina he was raised. Born in Little Rock, Arkansas, Kamakakēhau adopted the culture that brought him to Hawai'i at only 6 weeks of age and now shares his mana'o (knowledge) with the youth of our community through 'ōlelo Hawai'i, the Hawaiian language. On this May Day feature of Be Aloha, we celebrate through his mele (songs) and stewardship of the culture which embraced him. 
Meet:
Kamakakēhau Fernandez
Born & Raised: Born in Little Rock, Arkansas. Raised in Maui, Hawai'i from 6 weeks old.
Currently Reside: O'ahu, Hawai'i
Occupation/Title(s): Award winning Music Entertainer, Song Writer, Educator, Entrepreneur

-


-
Being raised in Hawai'i, how has your connection to ʻāina shaped who you are today?
He Ali'i ka 'āina, He Kauā Ke kanaka. Hawaiian proverb for, Land is chief and we the people are it's stewart's — Without it providing for me or my family, I would not be. Having a deeper respect and understanding of the environment and people. 
As a multi-dimensional falsetto figure in Hawaiian music, to whom do you attribute as your mentors?
I pay homage to many Hawaiian music singers such as Uncle Richard Ho'opi'i, Aunty Genoa Keawe, and Dennis Pavao. Their effortlessly sounding Ha'i for the women and Ha'iha'i for the men, which is the vibrato and break sound the voice makes, gives the song character. As I've done more research, I learned that this style of singing has been done for centuries amongst African tribes as well. Even some of today's famous singers such as Usher and Phillip Bailey, lead singer to Earth,Wind & Fire, have influenced my style a little more. 
Teaching our youth, what is your hope for the future of perpetuating 'ōlelo Hawai'i, the Hawaiian language?
When it comes to teaching the youth in Hawai'i, my hope is that they can understand the value of perpetuation in whichever cultured background they 
-
-
As a statewide celebration rooted in the tradition of Hawaiian mele and hula honoring the aloha spirit and the giving of the flower lei, what is your earliest childhood memory of May Day?
My earliest childhood memory of May Day is always seeing who would represent the islands as part of the May Day court and which island they would represent. Seeing all of the beautiful colors of the rainbow. And believe it or not, at this young age of 6 or 7, I already would analyze how the representatives of each island would carry themselves while holding this day-of title being voted "prince & princess of each island". Haha! 
When you're not strumming an ʻukulele, where can one find you most?
When I'm on "me time" nowadays staying physically active is something I've taken more seriously. Not just to look good or to stay healthy, but to prove that I can still activate myself — mentally, spiritually, and physically.come from. 
-
-
-
What's the last book you read?
The last book I read is titled "The Astonishing Powers of Human Emotions Let Your Feelings Become Your Guide" by Esther & Jerry Hicks. During these unprecedented times we've been faced with, I'm happy my spirit led me to this book. The art of allowing your spirit to guide you is something that Kūpuna, elders of Hawai'i, often speak of as well. 
Favorite takeout or restaurants?
Nowadays I've been on a health kick so I love DTE (Down To Earth) —  I'd happily accept it as a date option! Cinnamons Restaurant, Cafe Kalawe, Sam Sato's. And for treats, Komoda Bakery and Tasaka Guri Guri Shop, both on my home island of Maui. 
-
-
What does "be aloha" mean to you?
Be aloha to me is the understanding of what the acronym stands for.
AKAHAI to be gentle. Gentle with yourself as well as others.
'OLU'OLU represents pleasantness.
HA'AHA'A to be humble in the process of life.
'AHONUI to be patient in the seasons of change.
When these points are internally felt and understood, one will embody and become Aloha.
The Be Aloha Spotlight Series shares the stories of our Hawai'i community through the lens of its people. Get to know the artisans, community leaders, small business owners, and advocates of Hawai'i as we uncover the aloha they wish to see in the world. All imagery credited to Kenna Reed.