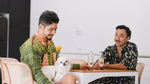 Avant-garde.
Elegant.
Vibrant.
Oʻahu's Reise Kochi is best known for his distinctive leatherwork, which frequently makes an appearance in fashion spreads, collaborating with Hawaii's most exciting creatives and on the runway. Self-taught and keenly aware of the power of intuition, he is known for his ability to combine elegance with edgy. Most recently, Reise has also ventured into working with lei, creating bespoke pieces rooted in his own, family traditions and Hawaiian flora.
Meet:
Reise Kochi
Born & Raised: Mililani Currently
Reside: Mākiki
Occupation/Titles: Designer, Stylist
IG Handle: @reisekochi Website: www.reisekochi.com

 Captured at Arts and Letters Nu'uanu, Shaka Tea caught up with Josh Tengan and Reise Kochi. In this two-part Be Aloha feature, we sit down with both gentlemen to discuss their individual work and views as part of Hawai'i's tapestry.
You are one of the most exciting designers in Hawaiʻi and are probably best known and one of the few, if only, working in leather! How did you start your career? What got you interested to work with leather?
It all started a few years after I finished the fashion technology program at Honolulu Community College in 2010. Around that time, I was in my garage and found a western-style leather satchel that my grandfather made decades ago. I was so impressed at his craftsmanship that I started to work with leather myself, but designing completely different kinds of bags and objects than what he was making. Like my grandfather, I was self-taught. I didn't have any formal training on how to work with leather but I did my research through books, online, discussion forums, and intuition. I'm still learning. 
We love your recent move into florals and accessories. Given the rich history of lei in Hawaiʻi, can you share a little bit more on the inspiration for your floral infused work?
Flora has always been a part of my life. My grandparents on my father's side were plant enthusiasts. My grandfather did bonsai, and my grandmother did Ikebana. I only started playing with floral arranging in 2014 when I started taking Ikebana lessons from a Sensei that was good friends with my grandma. It was through taking classes that I realized that this was something that felt natural to me. Then that led to making bouquets, then lei for friends. Combining fashion and lei is my way of combining my skill with my culture in the most beautiful way that I can.
Who are local designers you admire and recommend we check out?
CYC (@cyctheshop) by Chris Ching, a fellow classmate from HCC, is someone to check out. He does small runs and one-offs using upcycled fabrics.
His clothing is very functional and relaxed with an aesthetic that is chic and effortless. 
What's the last book you read?
Nana I Ke Kumu, vol.1-3, which I purchased from Nā Mea Hawaiʻi. It has inspired me to read more.
I find a deep connection to stories of place that Pukui shares and I find it very enriching. 
Favorite takeout or restaurants?
One of our favorites is an Okinawan restaurant called, Sunrise, off Kapahulu.
They make delicious Oxtail and sparerib soup. Delicious and simple. 
What does "be aloha" mean to you?
Be Aloha to me has a lot of meanings and is continuing to have a deeper meaning. To be aloha means to have respect and care of land and people.
It's a form of giving without expecting something in return. It's to give love, unconditionally. 
The Be Aloha Spotlight Series shares the stories of our Hawai'i community through the lens of its people. Get to know the artisans, community leaders, small business owners, and advocates of Hawai'i as we uncover the aloha they wish to see in the world. All imagery credited to Kenna Reed.