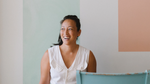 Meet

Melissa Bow, ice cream entrepreneur extraordinaire
behind beloved local favorite,

Via Gelato

!
Building a business rooted in community and sharing nostalgia is second nature for Melissa Bow, who's been boldly redefining the local ice cream scene with her inventive flavors, rooted in community and nostalgia. Learn more about what led her to open her business, her favorite flavor, and advice she has for other entrepreneurs as she shares her story in this edition of Be Aloha.
Born & raised: O'ahu
Currently reside: O'ahu
Occupation/Titles: Via Gelato Owner + Creative Director
-
Tell us about your entrepreneur story, how did you decide to open a business and make gelato?
I lived the first half of my adult life doing what my parents wanted me to do in terms of college and career.  It wasn't very fulfilling and I couldn't see myself continuing on that path for much longer.  Also, working for the companies and hospitals that I worked for, individual employee interests and job satisfaction simply wasn't a concept that companies welcomed.  It was all about making money for the company.  I distinctly remember a physical therapy company I worked for in New York City that in the beginning encouraged us to take on more work and see more patients as a "profit-sharing" sort of incentive. I took on a lot of extra work, but when it came time to get paid the agreed-upon bonus, one of the owners said that it wasn't ok with him to do any bonuses or profit-sharing, that the agreement was only with the one other owner my supervisor, so he hoped I understood that it would not be honored and that I could not expect that.That was really demoralizing for me. After that, the owners demanded that every year we see more and more patients packed in per hour – that was simply our job to them.  
So all of that really fueled my strong desire to invest in myself. I'm a hard worker, a creative thinker and I wanted to channel that towards something that I wanted to do and set up the reward system that I felt was fair to myself, and now that I have employees, for my employees as well.   
I picked the food industry because I've always loved food.  That probably started from my childhood of having very little and very limited food. Food was not a priority for my family, so any experiences where someone took the time to create food with thought was a very significant experience for me.
We admire how you are a business deeply rooted in place and community, specifically, charming Kaimuki. Can you share more about what this neighborhood means to you and how you support your community thriving? 
The reason why Via is successful is largely due to the community and their loyalty and connection to Via. Supporting them in return is just part of our relationship. So when non-profits and schools and students reach out to Via for fundraising or to do a collab or if students or teachers want my time to teach a class or entertain questions from students on their projects for school, I'm happy to do it.   
I think our community thrives in a lot of small ways, but hearing 'yes' and getting support from their small businesses helps. Now we're in a pandemic and small businesses need to hear the 'yes' from their customers that customers will still visit them, and think outside of the box in terms of how they can still buy from them on a regular basis.
As a successful small business owner, what is the one piece of advice you would give to someone thinking about starting a business?
Don't work with people who you feel don't respect you or are difficult to work with. Define what kind of people you want to work with and look around for them.  Finding them is easier when you have really clear things you are looking for. They are probably looking for you too. 
You make some of the most distinctive and delicious flavors we have ever tried! How does the flavor process work and where does your inspiration come from?
The flavor process is a team effort. Our team meets every week and we discuss upcoming flavor opportunities and what people on the team want. Sometimes that is influenced by customer suggestions. Many times, it's influenced by people on the team and something they feel really strongly about. 
When I say "feeling strongly," it's more than just really liking to eat a certain flavor and thinking it's yummy. They feel strongly about it because it evokes really strong memories. For example, August's chef's choice Mango Float was Krisha's idea because she grew up in the Philippines and that's a dessert that her grandmother made for special occasions. Mangoes were also always fresh and available on trees in the rural place she grew up, so the fresh mango component was an absolute must. That overlaps with how we like to showcase locally grown and handpicked and pitted mangoes every summer because that is one of the super special things about living in Hawaiʻi (even though for our team, it's insanely costly and labor-intensive). Krisha hasn't been able to go back to visit her family in the Philippines in a reallllly long time, so the nostalgia factor for her in this flavor was super high.   
I'm gifted in the sense that I can eat anything and know what is in it and the components that make it taste the way it does. So basically, Krisha made me her grandmother's recipe and shared it with the team, then I made a gelato version that hit all the points that I noticed when eating her grandmother's dessert and asked Krisha her thoughts. I have a lot of knowledge in how food behaves even in frozen form, so that comes in handy when creating these types of flavors steeped in memories into an ice cream form. 
We have to ask, do you have a favorite flavor or flavors?
My favorite flavor is our Fierce Chocolate. I made that one the way it is because before I made ice cream, chocolate ice cream in America was disappointing to me and this is the version I personally wanted to eat. Really thick texture that you can chew, high chocolate content – not through cocoa powder like a hot chocolate drink, but also through high-quality chocolate like eating a chocolate bar.  The only way to get there is to make it by hand. Much of American ice cream is made in industrial sizes by machines and so each machine is specialized in terms of what it can accept in the process of making ice cream. You can't simply throw chocolate bars into an industrial ice cream machine – everything has to be in an easily dissolvable powder or liquid form. When you make ice cream and gelato by hand, you can use the ingredients you think will taste the best.
What's the last book you read?
Next Year in Havana and The Song of Achilles
Favorite takeout or restaurants?
Takeout: Hawaii Sushi, Bac Nam, Los Chaparros, 'Illi'illi Cash and Carry, Aloha Greek Kitchen, We Heart Cake Company 
Restaurants: Fook Lam, Yung Yee Kee
What does "be aloha" mean to you?
Being kind, looking out for one another, being generous
The Be Aloha Spotlight Series shares the stories of our Hawai'i community through the lens of its people. Get to know the artisans, community leaders, small business owners, and advocates of Hawai'i as we uncover the aloha they wish to see in the world. All imagery credited to Kenna Reed.