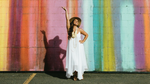 Authentic.
Empowering.
Musical.
Grammy nominee, Nā Hōkū Hanohano award winner, mamabird, and entrepreneur — Kimié Miner is one of Hawai'i's most lauded singer-songwriters. Filled with perpetual light and a commitment to community, Kimié is an inspiration to many as she works to empower the next generation of local musicians and moms alike, all while grounded in authenticity.
Meet:

 
Kimié Miner
Born & Raised: Born: Oʻahu Raised: Kailua-Kona, HI
Currently Reside: Kakaʻako
Occupation/Titles: Singer/ Songwriter/ Producer/ CEO/ Founder/ Mentor/ Mamabird
IG Handle(s): @playkimie 
Website(s): www.KimieMiner.com www.HakuHawaii.com
Take us back to the very beginning. How did you first get interested in music?
Iʻve always loved music and particularly songwriting since my earliest memories. I never felt heard as a child, but through music, I had a voice, first through the words and lyrics of otherʻs songs and eventually, through my own. I began songwriting to express my deepest thoughts and feelings, like a musical diary, but I never intended to share these songs with anyone besides my closest friends. When I was 19, I had my first touring experience opening for Barrington Levy on the West Coast on stage with just my nylon string guitar and a couple of original songs! Then, while living abroad, I uploaded a few of the demo songs that I produced to my Myspace so that my friends back home could hear them. They put my songs on their wall, and it went viral. Before I knew it I had over one million plays on Myspace, and I was their number one unsigned artist in Hawaiʻi. Thatʻs when I understood the power my music could have on others. How we all just want to be heard. My music gave a voice to others, and that encouraged me to pursue my career more wholeheartedly.
Your commitment to community and supporting the next generation of talents from Hawaiʻi is incredible and inspiring, which led you to launch the Haku Collective. What was the inspiration behind founding Haku Collective?
I want to give voice to others who feel underrepresented, just like I have. There were no roadmaps for me coming up in this music industry. It was hard for me to find my place in mainstream music, especially because I looked and sounded different from what I saw being highlighted in the media. I questioned if my stories and songs were relevant. Over the past 15 plus years of cultivating my career, I made many mistakes and learned invaluable lessons along the way. The biggest lesson I learned was that my voice matters. Every person has a beautiful story to tell. One that is relatable to others. I had the vision to inspire humanity and connect to each other through the power of every voice. So, I started Haku Collective, a company By Artists, For Artists. We are committed to our mission to build and sustain a thriving network of creatives telling the most authentic stories of Hawaiʻi. Our creative network of Artists, Entertainers, Cultural Practitioners, and Public Figures inspire, educate, connect and uplift a global community with Aloha.
You are the embodiment of a "mamaprenuer," and in addition to your own performing artist career and running Haku Collective, you have three young children under three! We love reading your candid thoughts and experiences on everything from breastfeeding to taking your keiki to the Grammy awards on your Humble Mama "Mamabird" Blog. So what is the number one takeaway you hope your readers connect with through the Mamabird Blog?
My children taught me the power of vulnerability. Brene Brownʻs definition of vulnerability is uncertainty, risk, and emotional exposure. But vulnerability is not weakness; it's our most accurate measure of courage. I want to encourage mamaʻs to share their challenges and triumphs instead of hiding them. To realize they are not alone in their journeys. Women tend to have a mentality of perfectionism, but motherhood teaches us a valuable lesson on acceptance. "Let go of what you thought and go with what you got!"
You are often in the spotlight whether locally, on the continent or abroad and we admire how you continuously champion local designers. What are some of your favorite designers and local companies to wear?
I am such a fan of local companies doing big things! Mohala Eyewear and Yireh both give back by donating to girls' education or anti-sex trafficking. I love their viewpoint that you don't have to sacrifice your values for your style. Manaola, Kini Zamora, Manuhealiʻi, and Alohiwai all tell the beautiful stories of Hawaiiʻs rich culture in their designs. I love hooked up Hawaiʻiʻs rose gold pikake hoops and bangles and kisiwaʻs colorful beaded jewelry as well.
What's the last book you read?
Seat of the Soul by Gary Zukav
Favorite takeout or restaurants?
Aloha Bakehouse is right by my house and probably the place I go to the most.
I love Thyda's Tacos right across from Whole Foods on Queen St. I love Merriman's or MW for our extremely rare date nights. 
What does "be aloha" mean to you?
Be proud of who you are and where you come from. Be vulnerable. Be authentic. Then youʻll see that weʻre all connected and every one of us matters just as we are.
The Be Aloha Spotlight Series shares the stories of our Hawai'i community through the lens of its people. Get to know the artisans, community leaders, small business owners, and advocates of Hawai'i as we uncover the aloha they wish to see in the world. All imagery credited to Kenna Reed.