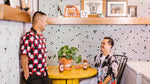 Pet Enthusiasts.
Business Owners.
Community Organizers.
Visionary Thinkers. 
With the belief that if you take care of your pet, your pet will take care of you —Jordan Lee and Matthew Guevara have curated an urban pet supply located in Kaimukī, Hawaii. Far from the ordinary, The Public Pet specializes in organic, holistic, and local products for cats & dogs — all while leading a community voice for shopping local and setting visionary initiatives to uplift a historic town. Guest interviewer and Be Aloha photographer for 2021, Kenna Reed, sits down with Jordan and Matty to share their story.
Meet: 

Jordan Lee & Matthew Guevara


of The Public Pet
Hi Jordan, Hi Matty! Whether it's your shop, campaigning for
Keep It Kaimuki
, or tending to your cactus garden, it seems like you two always have your hands in something! So let's start with your first baby,
The Public Pet
. You opened the doors of
The Public Pet
a few years ago at a time when Kaimukī was really starting to take off. Before your shop, there really weren't a whole lot of options for local pet owners — especially pet stores that showcased so many organic, sustainable, and local options.
-
Can you tell us more about your shop and what your mission is?
-The Public Pet's main mission is to constantly move the needle forward in regards to how people feed their pets, care for their pets, and their perception of the modern pet lifestyle here in Hawaii. We want to sell products that promote the inclusion of your pet in every step of your day. Whether it be going to work or going on a hike, we want to normalize the pet visibility on every scale.
It wasn't long after you joined the Kaimukī community that you started
Keep It Kaimuki
, an organization that celebrates the small businesses and neighborhood of Kaimukī. It's been less than three years and KIK has blown up into what feels like a massive movement.
Where did the idea of KIK begin and did you ever imagine it being where it is today?
(Jordan)
KIK started as a catch phrase honestly, something I repeated in my own head, eventually posting the phrase up on Instagram in the early part of
2017. I started thinking about Kaimukī and how amazingly diverse the small business community was here. I didn't want to think about just The Public Pet, I wanted to think about Kaimukī as a whole. To make people realize that it is possible to shop in one neighborhood and that going to a shopping mall isn't always the answer for our local economy. After we commissioned
Matthew Tapia
to create the KIK logo for us, it then took off on this insane trajectory to become a movement for the Kaimukī small business community. I never imagined that it would have come this far and that it would be so embraced by the Kaimukī community.
-
One of the things I love most about you two is how vocal you are with your opinions and how quick you are to stand up for those whose voices aren't always heard. A lot of businesses are reluctant to take political stances but not The Public Pet.
What made you decide to make this a part of your identity and how has it affected business in a positive way?
We understand why some businesses choose to remain neutral but we also know that sometimes saying nothing can be so much worse. We really wanted to use
The Public Pet
platform
and be bold in our views with spreading awareness and information, not just showcasing cute pet photos or products. This year we saw so many political pet accounts on IG and we saw how so many communities were taking a stand on the issues facing our country.
We wanted to be part of positive change in the world and activate our followers to do the same. This year really affected us on a personal scale and we honestly could not sit back and be silent.
Shaka Tea's Be Aloha series is all about showcasing members of the community that don't just talk or preach Aloha but embody it.
How do you feel you do this?
The Public Pet
embodies Aloha by thinking and being more like a dog. As trivial as that sounds, dogs are the purest forms of love and we think that's always something people should strive for.
And lastly, any big plans for 2021?
The Public Pet
is always trying to expand its product selection in shop and online, but this year we really want to dedicate ourselves to growing our own product line. It would be a dream to have our local products available in other pet stores across the country.
-
The Be Aloha Spotlight Series shares the stories of our Hawai'i community through the lens of its people. Get to know the artisans, community leaders, small business owners, and advocates of Hawai'i as we uncover the aloha they wish to see in the world. All imagery credited to Kenna Reed.